Newlite IndoorLed VB 6B 1700P 630 W luminaires are light-emitting diode (LED) devices for  vegetative and flowering processes.
It covers a growing area of 120 cm x 120 cm and is installed at a height of between 25 cm and 40 cm above the top of the plants, delivering a light intensity within a PPFD range of 900 µmol/s/m², which is increased to PPFD 1200 µmol/ s/m² when several luminaires are used.
It is made of aluminium. The heat produced by the LED is dissipated through aluminium bars, which maintain an efficient passive heat transfer and dissipation without using fans, thus eliminating noise and optimising energy consumption. This passive dissipation system eliminates potential failures, maintaining the critical temperature of the LED to achieve a long useful life at optimum levels.
Their IP66 connections guarantee safety and protection in crop areas with high humidity levels.
Relevant Features
Professional LED lighting for technical crops.
Perfect spectrum for the complete process: seeds, cuttings, vegetative and flowering stages.
Optimum production in terms of weight and quality.
It presents 250 W – 380 W – 500 W – 630 W – EXT power controller.
EXT signal input for centralised control in large installations.
Wide input voltage for correct operation in any installation.
IP66 protection rating for extremely humid environments.
Warranty period of up to 5 years.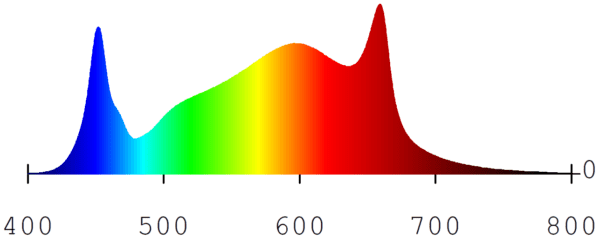 Spectrum
Spectrum for the complete development of the plant, from the preliminary germination or rooting stages to the vegetative and flowering stage. The red peak at 680 nm favours potent flowering which, together with the blue peak at 300 nm, yields compact, dense plants.
Technical Specifications
Input Voltage
100 V - 277 V AC
Input Current
2,27 ~ 6,30 A
Input Frequency
50 - 60 Hz
Total Harmonic Distorsion (THD)
<10%
Listed
CE, RoHS, UL 8800, UL 1598
LED Chips
Samsung LM301 - Osram
Dimensions
L 1195 mm x W 1092 mm x H 114 / 46,5 mm
Temperature Range
0ºC ~ 35ºC
Power Selector Positions
250 W - 380 W - 500 W - 630 W - EXT - OFF
Direct Heat Transfer
323 BTU
Direct & Indirect Heat Transfer
2149 BTU