In the Newlite PRO HPS 600W E40 lamp, the electric current is discharged through a tube containing high pressure sodium vapour along with another gas mixture. The resulting light has great intensity and a wide spectrum, ideal for lighting any indoor cultivation stage.
Newlite PRO HPS 600W E40 compatible with any ballast, whether electronic or magnetic. Thanks to its balanced combination between lumen intensity and colour temperature, high red peaks and some blue peaks are obtained in its spectrum. Therefore both vegetative growth and flowering are vigorous, particularly during the final cultivation stage when the final product, fruits or flowers must be fattened.
These lamps are highly appreciated by indoor plant growers for their durability and reliability.
Newlite PRO HPS 600W E40 lamps are specially designed to last and increase production.
Relevant features
Exceptionally stable intensity during its useful life.
Spectrum specifically designed for horticulture.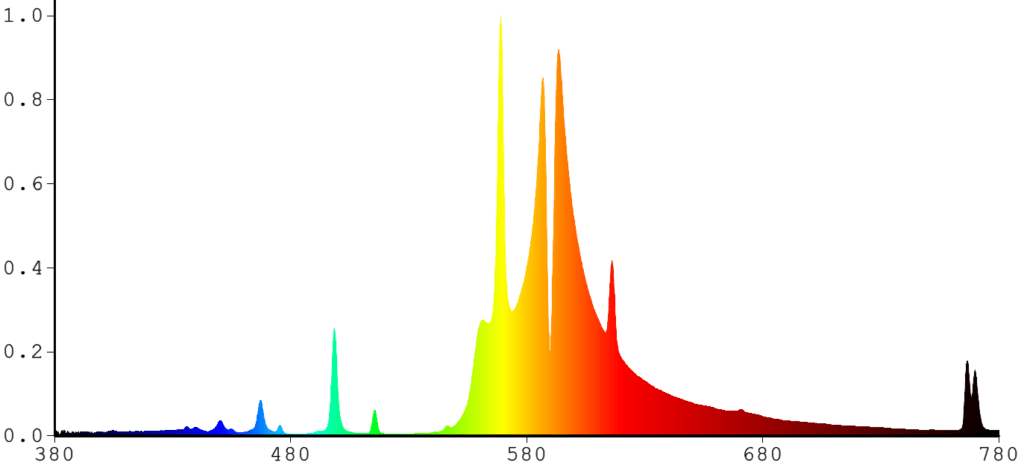 Spectrum
The different gas mixes inside the Newlite PRO lamp allow a different spectrum which favours flowering processes.
Technical specifications
Input voltage AC
110 - 230 V
Lamp-holder maximum temperature
250 ºC
Lamp maximum temperature
400 ºC
Operating position
Any position