Newlite HPS 2.0 600 W E40 lamps present the most advanced manufacturing technologies and gas mixture research, being specially indicated for high yield plants.
Newlite HPS 2.0 600 W E40 has a far-red spectral peak at 760nm that is outside the Photosynthetic Photon Flux (PPF) but within the Yield Photon Flux (YPF) measuring ranges, delivering a total YPF photosynthetic intensity of 1155 μmol/s, which improves the flowering and fructification development of the plants.
Newlite HPS 2.0 600 W E40 lamps allow to use greater intensity with the same energy consumption, thus increasing the product yield with the same energy costs on the same area.
Relevant Features
High intensity and performance with 92000 lumens.
Greater far-red intensity to increase the flowering process.
Greater intensity: PPF - 1075 µmol/J ; YPF - 1155 µmol/J.
Optimised for high frequency ballasts.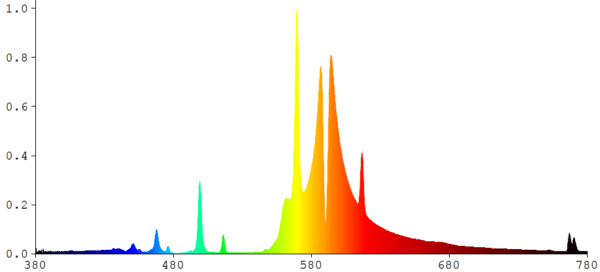 Spectrum
2000K: The spectrum is balanced for the correct combined development of the vegetative and flowering stages.
Technical Specifications
AC Input Voltage
110 V - 220 V
Lamp-holder maximum temperature
250 ºC
Lamp maximum temperature
400 ºC
Operating position
Horizontal ±15º