Newlite HPS 1000 W Double-Ended (DE) lamps are the best option for maximising harvest yields, due to its high performance and balanced spectrum.
The performance of Newlite HPS 1000 W DE lamps is far superior to those of lamps with E40 lamp-holders.  Up to 30% more light intensity is obtained when used with electronic ballasts, thus permitting a considerable reduction in the total energy consumption of the facility and a higher harvest yield.
Relevant Features
This Newlite HPS 1000 W DE lamp is designed to maximize productivity.
Mixed lamp for vegetative and flowering processes.
Greater far-red spectrum that favours an increase in fruits, buds and flowers.
Less consumption and greater intensity 30% more than other standard lamps.
Efficiency of 1.95 μmol/J, providing a real output higher than PPF - 1950 μmol/s ; YPF - 2250 μmol/s.
Useful life of 10000 hours with a slight intensity reduction of less than 10%.
Improved performance with high frequency electronic ballasts from 100 kHz to 150 kHz.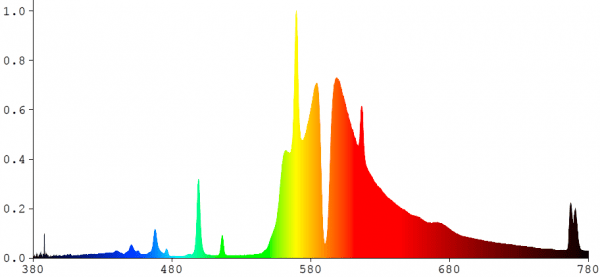 Spectrum
The spectrum of the Newlite HPS 1000 W DE lamp has an important far-red peak close to 780 nm that will considerably increase the flowering stage of the plants.
Technical Specifications
AC Input Voltage
220 V - 400 V
Lamp-holder
K12X30S Doble-Ended
Lamp-holder Maximum Temperature
250 ºC
Lamp Maximum Temperature
700 ºC
Operating Position
Horizontal ±15º